monteurzimmer ferienzimmer appartement zimmervermietung leasingzimmer linz oberoesterreich steyregg urfahr umgebung
Numerous recreational opportunities around Steyregg
Steyregg in Upper Austria attracts many visitors throughout the year. Whether wandering through the town, taking part in sports or attending one of our numerous events, our beautiful area offers its guests numerous recreational opportunities. Take the time to discover its regional charm and flair!
Steyregg offers you:
Countless shopping possibilities eg.  Billa, SPAR, Pennymarkt, small stores for newspapers and cigarettes, gas stations, etc ..
Restaurants with good food and a popular sausage stand with cheap lunch menus.
Not far from our house are a bathing lake and a sports centre.
For cyclists and lovers of Nordic walking, the nearby banks of the Danube are perfect to explore.
By train, you can reach the centre of Linz in 6 minutes.
monteurzimmer ferienzimmer appartement zimmervermietung leasingzimmer linz oberoesterreich steyregg urfahr umgebung
Bathing Lake Steyregg
The bathing lake was opened in 2004 and is constantly expanding. A spectacular "Waterclimber" was added which offers fun and adventure for all ages. This can be reached by means of a climbing wall or a ladder. From the top, you can jump into the lake or just enjoy the view. A swing is also attached!
Furthermore, our bathing lake offers a separate area for infants and non-swimmers as well as a children's playground, more great water features and a beach volleyball court.
Pfenningberg – the Pfenning Mountain
Reaching a height of 616m, the Pfenningberg is the hiking and recreation centre of Steyregg. It is the most striking mountain in the Linz area, the local mountain of the Danube. It used to be called the "High Corner" because it forces the Danube to make a sharp turn. 80% of the Steyregg municipal area is on the Pfenningberg massif.
A number of myths surround the Pfenningberg. Dr E. Schiffkorn describes it as wreathed in legends and assumes that it was a centre for primaeval religious activities before the Christianization of the Danube area.
The Danube Hiking Trail "The Steyregger Loop"
Hardly any other region is as varied as the Danube region in Upper Austria. Ever-changing landscapes accompany the hiker on the Danube Trail from Passau to Linz to Grein and offer breathtaking views and insights into a spectacular country.
The trail leads from Passau to St. Nikola and past the northern boundary of Steyregg. Marked by numerous hills and shady forests, diversity and variety characterize the area. If you leave the Danube trail, you can walk through the entire municipality on the so-called "Steyregger Loop" before returning to the main trail.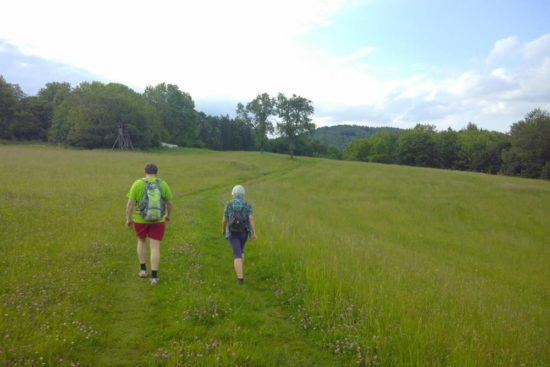 monteurzimmer ferienzimmer appartement zimmervermietung leasingzimmer linz oberoesterreich steyregg urfahr umgebung
Room rental for workers and tourists in Upper Austria
About Block II
1a-Zimmervermietung - the perfect location, a communal kitchen and much more...